Introducing Southern California Great Dane
Southern California Great Dane is the proud new addition to our company's network of dealer partners. The location was originally a Great Dane factory-owned branch since 1997, where it served customers for more than two decades before being purchased by Velocity Vehicle Group and re-branded as a full-service Great Dane dealer.
Velocity now sells and services Great Dane flatbed, dry freight, and refrigerated van trailers and truck bodies at the location in Fontana, California under the new banner of Southern California Great Dane. The partnership enables Velocity Vehicle Group to add Great Dane's premier line of trailers to support their network of customers in the Southwest. The company operates more than 200 dealer locations, all which stock Great Dane parts. Velocity is one of the largest distributors of OEM parts for Great Dane.
In just under a year, Southern California Great Dane is off to a promising start in this exciting new partnership. With many years of industry knowledge and experience, this team continues a history of delivering high-quality and real value to customers in the region.
We interviewed the Southern California Great Dane Team to learn more about what has driven their success in their first year of operation. In this Spotlight Interview, we feature interviews from previous Great Dane employees Tom Snedeker (Sales) and John Marino (Sales), Manual Valadez (Sales) and Daniel Figueroa (Sales and Digital). We also interviewed Warren Auwae, VP of the Used Truck Division at Velocity Vehicle Group, and Mar Samayoa, the Manager of Southern California Great Dane.



First, tell us about the history of your dealership and how the Velocity-Great Dane partnership came together?
W. Auwae: Velocity was never in the trailer business prior to acquiring Central California Truck and Trailer Sales - a Vanguard dealership. Upon coming on to the Velocity Group, there were already negotiations in place to purchase the Great Dane Fontana territory and officially convert to a Great Dane dealer. In May 2020, we closed the transaction and took on the Great Dane franchise in Southern California, relinquishing control of the vanguard franchise for all of California.
Warren and Mar, how did you first get your start in the Trailer Industry and how did you two meet?
W. Auwae: I grew up in Maui and my dad had a small trucking company and equipment rental business with a commercial repair shop. He sent me to college so I wouldn't work in the trucking industry, but after college, I applied for an entry level clerk position at Fresno Truck Center. I figured I grew up around trucks - I could fake it till I made it. My first job at the dealership was calling for insurance certificates when a truck was sold. I worked there about 3 years, then I decided I wanted to learn the trailer business, so I went to work for a company called XTRA Lease. Having grown up around entrepreneurs and having the desire to do my own thing, I then started a leasing company with a partner of mine. We ended up selling that company to GE when I was 30 years old. After that, I went to work for the Kenworth dealer in Fresno selling used and new trucks. During the recession in 2009, I decided to buy a dealership on the verge of bankruptcy. It was a Dorsey dealership that sold used trucks and Dorsey trailers. I sold the dealership to the Velocity group and went to work for them as VP of Used Trucks and New Trailers.
M. Samayoa: I got my start in the industry in 1999. Straight out of college, I worked in HR for a couple years, but in 1999 I started working in sales at Utility Trailer Corporate. Shortly after, the Utility Trailer dealership out here in Fontana was looking for a bilingual sales rep, so I threw my hat in the ring. I started that in 2000 and stayed for 14 years. In September of 2014, my paths crossed with Warren. We hit it off right away and I went to work for him at Central CA Truck and Trailer Sales. We've been together through the Vanguard days and now the Great Dane days.
W. Auwae: Through my relationships in the business, I came across Mar's name and wanted to meet him to potentially bring him on with our Vanguard line. I drove to Fontana to sit down with Mar at a Benihanas - if we can't eat raw fish together, we can't work together. We had a great lunch meeting, and as we were finishing up and walked out, I had a brand new Vanguard trailer waiting for him in the parking lot. I wanted him to touch and feel it - so he knew what he was getting involved in.
M. Samayoa: Emotionally that took me right back to that moment - I mean who does that right? You're considering to make a leap career-wise and work for somebody else and he makes the effort to bring a trailer down six or seven hours for me to look at for a grand total of maybe 15 minutes. At the risk of sounding like Cinderella or something, that swept me off my feet and I couldn't say no.
What are your team's biggest strengths?
T. Snedeker: I think we have a very special team, everybody has experience in one form or another and Manny (Manuel) knows quite a bit more than he should in this short time in the business. He comes from a parts background and knows a lot about the parts of a trailer. John and I have worked together for 15 years at Great Dane.
J. Marino: When the merger happened in May of last year, the people that came in were going to determine the trajectory of the team. Manny is doing a good job and he is learning fast. Mar is a great manager - he let's us do our thing but also let's us know what is expected of us. I think that's very important. And Tom - I love working with Tom. I've known Tom a long time and I would do anything for him. It's been a good experience since May. We've done well, and hopefully this year we can go on strong and have another great year. I love working with these guys.
Current Southern California Great Dane sales team, pictured from left to right: Manuel Valadez, John Marino, Tom Snedeker, and Mar Samayoa.
D. Figueroa: I think we all work really well together because we emphasize each other's strengths. Tom and John have a ton of history and product knowledge, Manuel is here soaking all that up and has the tenacity to go out and get other clients, Mar is good at managing - he lets you have the independence you want but also helps you correct the things that are a challenge for you, and Elysia (our new digital Marketing hire) and I tie it all together on the digital side. Each one of us has our specialty that makes for a strong team.
M. Samayoa: It's a good mix of personalities and experience. Tom Snedeker brings loads of experience, he's been doing this I think 46 years - longer than I've been alive! He is kind of like a walking encyclopedia of knowledge when it comes to trailers. John is our inspirational, emotional leader if you will. He's got a spunk to him and customers love that about him. he is no nonsense kind of guy. Then you got Manuel, who is relatively new to the industry, and he is the glue that keeps us together. He can do everything from selling a trailer to being our go-to tech guy. All I have to worry about is occasionally selling a trailer and keeping the train on the tracks - this team works hard and makes my job easier.
The Southern California location has a lot of history. Can you talk about the evolution of the Fontana facility?
T. Snedeker: Prior to selling trailers for Great Dane, I was a salesman for Pines Trailer, a small manufacturer of dry freight vans out of Chicago, Illinois. Pines was looking to expand and opened their first branch out here in Fontana. I moved to Fontana on April 1st, 1986 and I have been here ever since. In '97, Pines Trailer Corp acquired Great Dane, and in April of '98, we became a Great Dane owned factory branch. There is a lot of history that has evolved here and it has built a strong Great Dane territory in this region.
(Pictured left) A customer of Pines Trailer. Pine's acquired Great Dane in 1997. Prior to the merger, Pine's operated as a family-owned business for more than 25 years before partnering with the Crown family in 1988; (Pictured right) Pines Trailers logo on a 1980 Pines 45' semi-trailer.
Southern California Great Dane opened it's doors during the peak of the pandemic. What has contributed to your success amidst a challenging year for most businesses?
T. Snedeker: First of all, Great Dane is a big factor in our success, because of the name and reputation for manufacturing - coupled with guys like John and myself, and soon to be Manny, who have many years of experience in the trailer industry. The years of experience on this team, coupled with the product line, that's added a lot to our success.
J. Marino: We build different types of trailers to service many industries. Everything from the movie industry and wardrobe trailers - I have a customer that builds gyms for actors so that when they are on set, they have a gym to workout in - also, ice cream haulers and farmers. We have a lot of different specs and many ways to serve different customers. The Great Dane name carries very well all throughout the country. Our customers love Great Danes and are actually willing to pay a premium because they are the best trailers on the road. Our customers know that these trailers will last a long time and that they have good resale value when customers are ready to move on and buy a new one.
What do your customers love about your products or service?
J. Marino: I've taken a few of our customers to the factories. It's amazing to see our customer's reactions when we are inside the factory and they are seeing how their trailers are built. It's a really special experience. I've done it maybe 2 or 3 times, and every time I've done it, it's led to lifetime customer relationships. A couple years back, I had a customer that wanted to tour the manufacturing plants. I flew with him out to Terre Haute and we timed it perfectly so that the customer could actually watch their trailers being built in real-time. It was such a cool experience for the customer to be part of and I think they really appreciated that.
T. Snedeker: We have customers every week come in and say "I came here because I heard you are the best" - my answer to that is we are not the cheapest but we are the best and that stands on it's own. Even back before I worked for Great Dane, I always knew they had a reputation for quality.
M. Valadez: I'm new to selling Great Dane, but the nicest thing I've heard from a customer is that we have the best product. Because of Covid-19 and the growing trucking industry, there are a lot of new people coming into the business, and they always come here first and say "Everyone tells me Great Dane is the best trailer". It's the first trailer people want to buy.
"I've taken a few of our customers to the factories. It's amazing to see our customer's reactions when they see their trailers being built. I've done it maybe 2 or 3 times and every time I've done it, it's led to lifetime customer relationships."
What sets you apart in the industry?
T. Snedeker: John and I have been here a long time and I think we have a lot more experience than most people in this industry. I also think the personalities on this team fit the industry well. But what truly sets us apart is the product line we sell and the way we feel about the product we sell. When you really believe in your product, it makes all the difference.
J. Marino: We are always straight-forward and honest with our customers. Good or bad news we always tell them the truth instead of what they want to hear. I think most customers appreciate that. If we don't have something available or if the trailer doesn't work for them and their needs, we're not going to sell it to them. That's a really good way to lose a lot of customers. Most of this business is word of mouth and as a team, we know the best way to set ourselves apart is by being truthful to customers from the very start.
M. Valadez: It has to do with your team. We all work together and we sell a great product. I've only been here for 9 months and I'm ready to get a Great Dane tattoo on my chest! That's how much I love and believe in the product. I also speak Spanish, so I am able to help out all of our Spanish speaking customers as well. I think that adds another element to our team that sets us apart.
D. Figueroa: The guys are being modest, but everyone on our team has incredible work ethic. Every time I come in this office John is talking to a customer on the phone, Tom is sending out quotes, and Manny is even talking to a walk-in customer now. They all hustle and they deserve the credit.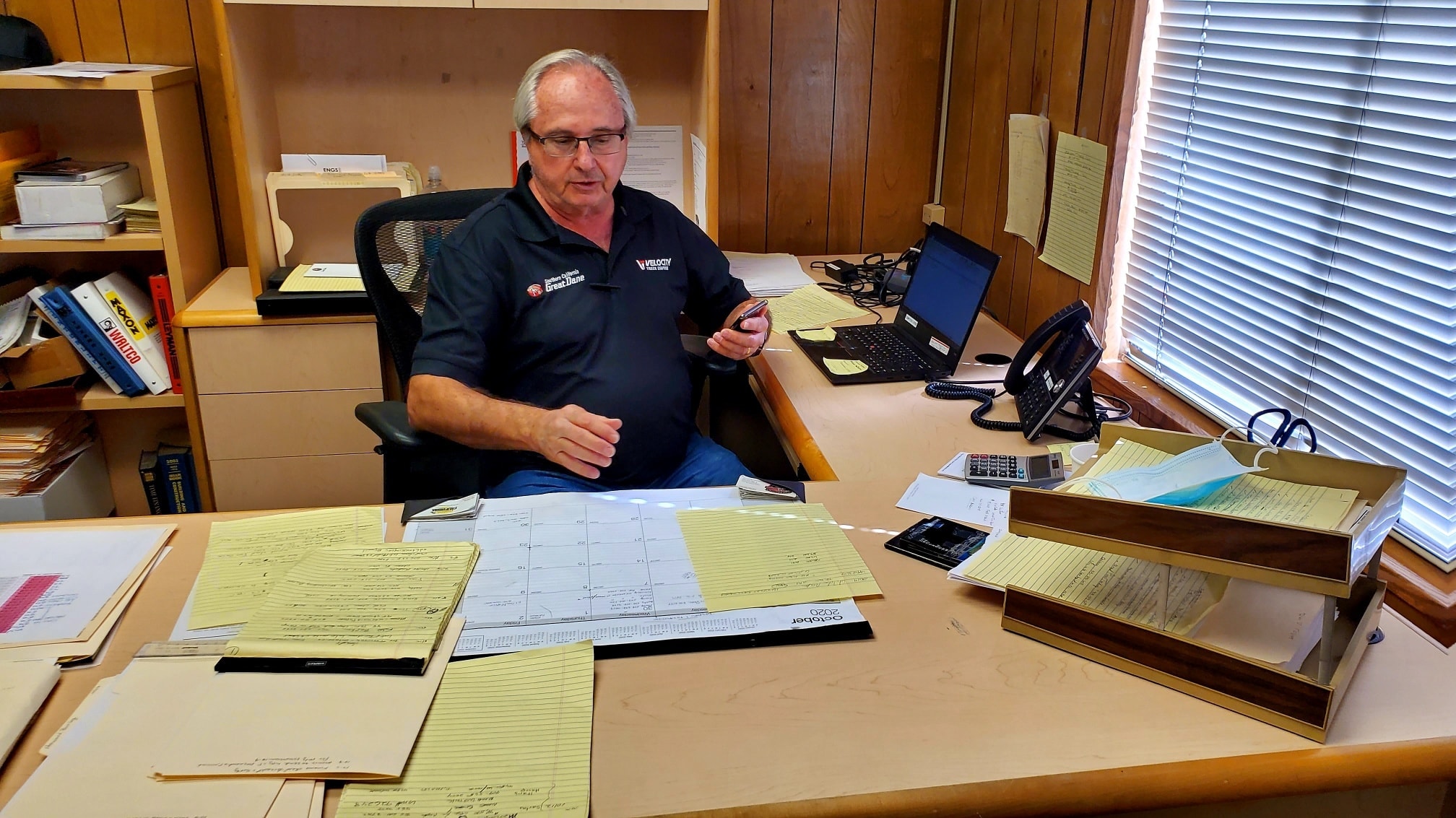 Tom Snedeker has been in the trailer industry for 46 years and has been working at the Fontana location since 1986, when it was owned by Pines Trailer.
John Marino in his office at Southern California Great Dane. John was previously with Great Dane for 15 year before the acquisition last May. John has 2 brothers that work for Great Dane in Pennsylvania.
What do you enjoy most about doing business in Fontana, California?



T. Snedeker: We enjoy being in Southern California in the sunshine and nice weather. We take it for granted sometimes, especially when everyone else is in the freezing cold and wearing big overcoats in the winter. We don't!
J. Marino: When I moved here, I had never been to California before. I didn't know there were mountains. I came out here with a blank slate and for the first three months, I lived in a hotel. I loved it, I didn't have to do laundry, cook, or clean - wish I could've stayed there 15 years. The west coast was a major culture shock to me and very different from the Northeast. I'm originally from Philadelphia where people and weather are much different. It's been a good ride and Southern California has been a great place to be.
M. Valadez: We are located on the perfect street - Valley Boulevard. We get a ton of traffic here, probably 15-20 customers a day that walk-in, not counting our existing customers. This is a great location to be, we are right in the middle of the capital of trucking here.
Being located near LA, have you ever sold to any celebrities?
J. Marino: I'm a diehard Philadelphia Eagles fan and when I moved, the hardest thing I ever had to do was give up my season tickets. I had a customer come in once and he was purchasing a trailer for someone on the phone. When we were finishing up, the guy gave me the phone so I could wrap up the deal with the customer on the line. After hanging up, the guy said to me "do you know who you were talking to? That was DeSean Jackson - the wide receiver for the Eagles. A couple days later I actually got to have a full conversation with him and we talked about football. It was one of the coolest things that's happened to me while I've been here.
Can you tell us about your Truck Giveaway?

D. Figueroa: We are giving away a 2016 Western Star Truck with low mileage and warranty. - so that whoever wins can hit the road the next day and start making money. Entry is simple, complete the steps listed on our website and submit the form at the bottom of the sweepstakes page. We will announce the winner on April 1st!