Introducing Missouri Great Dane
Established in 1980, Missouri Great Dane began as a 4-bay trailer repair facility operated by J.W. Jones, his wife Mary, and their son Steve. Over 40 years later, the company has remained a family-owned business and has grown into a full-service trailer dealership with locations in both Benton and St. Louis, Missouri.
MO Great Dane sells and ships custom-built and in-stock trailers throughout the U.S. and Canada. The company features a full line of parts, service, and repair facilities to handle all facets of the transportation market. Through the years, they have won several sales awards, including Great Dane's Dealer of the Year, Parts Sales Achievement Awards, and multiple salesman King Pin awards.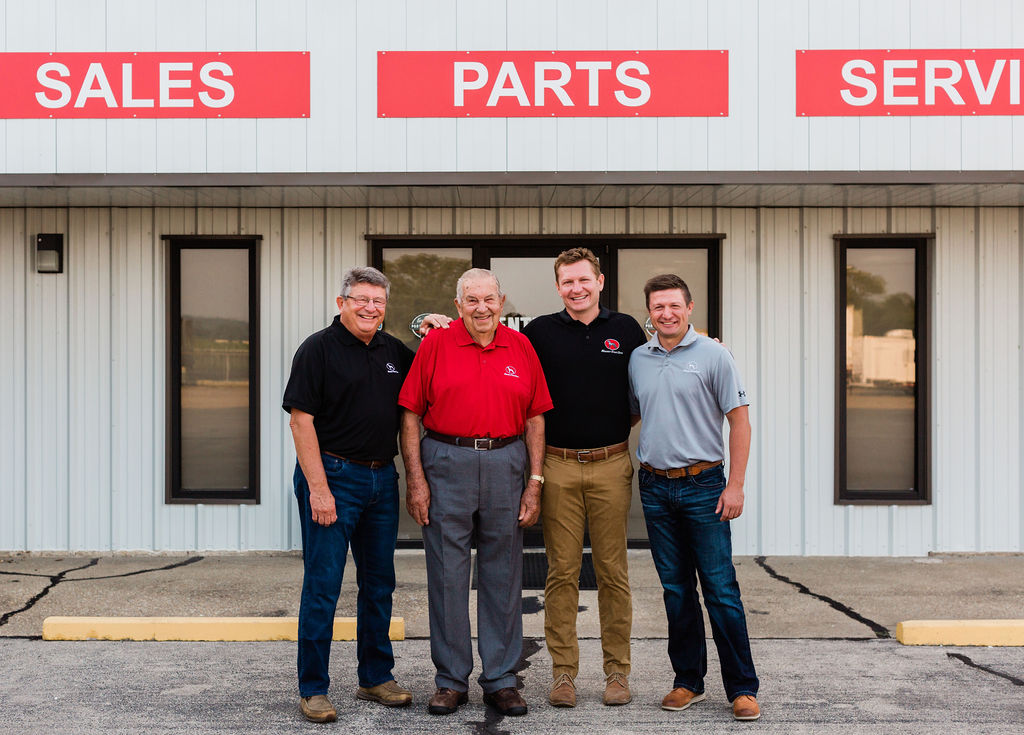 To learn more about Missouri Great Dane's long-standing history and dedicated partnership with Great Dane, we interviewed President and Owner of MO Great Dane, Steve Jones (41 years of service), and his two sons, Jason and Jonathan Jones (16 years of service), who both serve as Vice President of the company.
Pictured Left to Right: Steve, J.W., Jason and Jonathan Jones



First, tell us about the history of your dealership.
Steve: My dad and I started the business in 1980 as a 4-bay trailer repair facility. We worked in the shop while my mom (Mary Jones) ran the office. The business was first named Midway Trailers, Inc. In 1983, we partnered with Great Dane to expand our business to trailer sales. We are one of the oldest Great Dane dealers in the country.
How did you get your start in the industry?
Steve: My dad, J.W. Jones, used to work as the Trailer Shop Foreman for the largest trucking company in the area - Sam Tanksley Trucking out of Cape Girardeau, MO. They had over 400 trucks and were one of the larger trucking companies in the country at that time. I was working for Snap on Tools as an outside Parts Salesman where I called on the area trucking companies and shops. While calling on these companies, I realized there was a significant need for a trailer repair shop in the area. In 1980, my dad and I both quit our jobs to start the business. When my dad put his 2 weeks notice in to the trucking company, his boss said to him "that business won't work and you'll never make it on your own".
Jason: Jonathan and I both worked at the dealership during our summers growing up. We started in the shop bucking rivets, washing trailers, and sweeping floors. Shortly after finishing school, we started working for MO Great Dane full-time. We grew up around the business our whole lives and had developed some experience in the industry, so it was a natural fit for us to work for the company.
Why did you decide to start selling Great Dane?
Jason & Jonathan: For the first 3 years, we had the trailer repair side of the business going strong and had built relationships with most of the freight companies in our area. Selling trailers was the next logical step for us and we wanted to sell the best. We reached out to Great Dane for a dealership opportunity. Dan Hartley signed us up as a dealer in 1983. We only sold 3 trailers in our first year, but we have been growing ever since. Great Dane came to us in 1993 with the opportunity for a dealership in St. Louis and we jumped at the chance. We recently finished an expansion at this location, getting us to 10 service bays with 10 acres of paved parking.
Pictured: MO Great Dane's Benton office participating in the Wreathes Across America event with one of their customers.
"Selling trailers was the next logical step for us and we wanted to sell the best."
What sets you apart in the Trailer Sales and Service Industry?
Jason & Jonathan: Relationships. There are so many great people in the transportation industry that we have been fortunate to have in our lives. This business has led to wonderful relationships with work colleagues and also incredible friendships with customers, vendors, and employees.
What are you most proud of about your team?
Jason & Jonathan: Missouri Great Dane has always been a family business, and our employees treat it like it's their own. Our team truly cares about the success of the company and take ownership to make sure their department is doing the best they can. We have had eight employees celebrate 30 years with the company and seven that have been here for over 20 years now. That dedication and longevity speaks volumes about the kind of team we have.
Pictured: The O'Fallon Service Shop Technicians that put in the hard work to keep Missouri's customers moving and safe on the road.
"Missouri Great Dane has always been a family business, and our employees treat it like it's their own."
What has contributed to the success of your businesses?
Jason & Jonathan: Providing excellent customer service and value to our customers in sales, parts, and service. We strive for long-term relationships with all of our customers and provide top-notch service and product value. This keeps our customers coming back year after year.
What is the biggest challenge you have faced so far?

Jason: The biggest obstacle we have faced was the lack of money in our early years. Steve always says, "I didn't have two nickels to rub together when I started". Year after year, we have continued to reinvest in the company; growing our inventory, product lines, and staff every year to get to the point where we are today with 59 employees.
Pictured: MO Great Dane's O'Fallon (left) and Benton (right) locations during the early days. Since then, the company has expanded to larger facilities.
What is the nicest thing a customer has said to you about your products or service?
Jonathan: Having repeat customers that we've done business with for over 30 years speaks volumes.
What do you enjoy most about doing business in Missouri?



Jason: Our area is primarily comprised of owner operators and small fleets which has allowed us to develop great relationships. Being in this area has also allowed us to branch into some other areas of our business, including hopper equipment and cargo trailers.