Introducing Great Dane of Utah
Great Dane of Utah was established in 2001 when Bill Nehmer was approached by Great Dane to start the dealership. During those early days, the company began in a double-wide trailer. Today, Great Dane of Utah has grown into a state-of-the-art facility and is now one of the largest Great Dane dealers in the Western United States. Located in Salt Lake City, the dealership serves customers across Utah, Nevada, Arizona, and Southern Wyoming.
Great Dane of Utah is proud to offer new and pre-owned Great Dane trailers and a full line of parts, service, and repair capable of handling all facets of the trailer industry. The company is uniquely considered a "standalone dealer", exclusively selling only Great Dane products. Great Dane of Utah has been the recipient of many awards including: Dealer of the Year, Parts and Service Distributor of the Year, and multiple King Pin Sales Awards.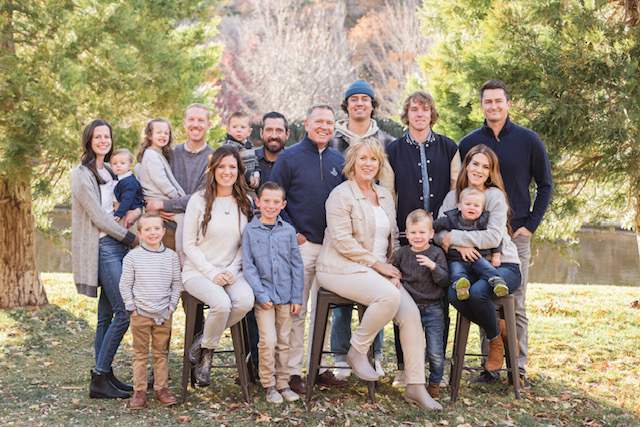 We interviewed owner of Great Dane of Utah, Bill Nehmer, his son Jared Nehmer (New Trailer Sales Manager), daughter Alli White (Marketing), Dianne Driggs (CFO), Chad Decker (Parts Manager), and John Weber (Service Manager) to learn more about Great Dane of Utah's long-standing history and dedicated partnership with Great Dane.
Great Dane of Utah is truly a family company. Owner, Bill, has overseen the dealership for 20 years and has five children that work for the business.
Pictured: Our favorite motto is "When you're here, you're family". Bill Nehmer (center) has always liked the feel and unity of a family business. He has 5 grown children that all work for Great Dane of Utah in some capacity.
First, how did you get your start in the industry?



Bill: I started as a parts delivery driver for Salt Lake Great Dane (Truck Dealer) back in 1982 while I was going to school. I just knew I needed to make minimum wage and pay the bills. It also helped that I could study while I was driving. Parts driving turned into parts selling, which eventually lead me to selling trailers. In the early 2000's, Great Dane approached me about starting a trailer dealership.
Dianne: I first met Bill in 1994, shortly after he started his new leasing company, Loanstar Leasing. Bill wanted some help setting up and managing his accounting system. I enjoyed helping him with this new venture. In addition to running a leasing company out of his home, Bill was already somewhat of a legend in trailer sales – specifically Great Dane Trailer sales. I watched Bill rise to the top, and when the opportunity opened up in 2001 to purchase and run a Great Dane Dealership in Utah, Bill was Great Dane's first choice. Its been a wonderful journey and I feel fortunate to be part of the Great Dane Team. Bill has grown the dealership from 3 to 57 Employees, and he has the best reputation in the industry. Great Dane of Utah is a fun place to work.
Why did you decide to start selling Great Dane?
Jared: Great Dane has always been a quality premium product, and we are happy to represent it. Part of the "origins" are in truth related to the opportunity that Bill had when he was a newlywed, being introduced to the dealership through his in-laws. Having a family introduction put him on the path, but the premium product and the high-quality premium service that our dealership provides have been a great marriage.
"I think what sets Great Dane of Utah apart is our desire and commitment to give more to the community than we take ."
What sets you apart in the industry?
Bill: Great Dane of Utah was the first Great Dane location of any size in the West back in 80's-mid 90's. Most people out west were familiar with Utility, but not as familiar with Great Dane. The fact that another iconic American company would be represented side-by-side with Utility gave people other options. It helped them feel like the world was bigger! What sets our individual dealership apart is that we are the only dealer in the country that solely represents Great Dane. Most dealers represent other manufacturers to maximize profits, and we have stayed true to one brand.
Alli: I think what sets Great Dane of Utah apart is our desire and commitment to give more to the community than we take. Bill has always wanted to share the success around, and that is evident as soon as you walk in to our building. If you show up on a Tuesday or Thursday, they'll try to feed you lunch. If you come in during the winter, they'll send you away with a new coat. Drive through on a hot day? Bill will make sure you have a cold coke in your hand going out the door.
John: Excellent customer service and the expert knowledge our team provides.
Chad: Premium product, a top-notch sales team, and expert knowledge in parts and service make us stand out from the rest.
Pictured left: Great Dane of Utah participates in a charity event called Thanksgiving Heroes each year. The team delivers Thanksgiving meal boxes to

hundreds

of families around the valley that are struggling with groceries. Employees gathered on a Saturday and took meal boxes packed with turkeys, potatoes, milk, bread, eggs, fresh fruits, and veggies to addresses all over town before the holiday. Pictured right: Great Dane of Utah team with a check for $10,000 to donate to the local Utah Food Bank.
What has contributed to the success of your business?
Bill: We continue to attract the best employees in town. We value our employees the same way we value customers. Also, our conservative approach from a growth perspective has greatly added to our success. We've left most of our profits in the company to help grow the business. That includes paying our employees a competitive wage - this leads to happier people, which ultimately leads to greater results. No one quits us for a better paying job!
Jared: Having good employees, and investing in their success. We have been very fortunate with the good people we have on staff and we have had very little turnover. Each person does their part well, staying organized and providing the best customer service.
Did this past year present any challenges and how did you overcome them?
Bill: The past year presented challenges in trying to keep people safe and healthy. We started operating as different teams on alternating days to help isolate our staff and maintain social distancing standards. It meant we had to do the same work with fewer bodies. We found some things could be done at home, and some needed to be done in-person at the dealership. While a few employees caught the virus, we never lost any employees, and that's what is most important. Helping our customers feel comfortable in our store was also an important concern. We wanted them to know our level of cleanliness was safe enough to continue sending drivers and parts and service deliveries over to our location.
What business lessons have you learned while owning or working for Great Dane of Utah?

Bill: I always enjoyed flying under the radar. With our past facilities, it was very easy to accomplish. With our new facility, not so much. It is one of the nicest facilities in Utah and additional business has been driven here as a result. We have received many offers from our customers to purchase the facility from us, and that has reinforced that we made a good choice to build at this location. My Dad used to tell me when we were building "your success wont be defined by the deals you get. It will be measured by the ones you walk away from". I think about that a lot. Partnering has to benefit both parties. Customers have reputations and we have one as well. Let's make sure it's a reputation that we want and are proud of.
Jared: Business success revolves around people, and its not just the customers. How you treat co-workers and vendors makes a difference too. People want to give their best when they genuinely enjoy working with someone. It is true for me, and it is true for others. Bill is a great example of prioritizing the relationship. Financial success seems to come as a by-product when you focus first on the individual people.
Pictured: Moving into the new building. Bill will always jump in and help where needed, even if it means rolling up the sleeves of his dress shirt.
What are you most proud of about your team?
Bill: Everyone on my team sees the big picture. Even a small set back in one department is still an overall win for the dealership. We started as a small group of 5 team members - all family - and have grown into a group of 60 employees that we still treat like our own family.
We have some long-time employees that have added to Great Dane of Utah's success over the years. Our CFO, Dianne Driggs, has been with the company since 2001 and her expertise in finance and accounting has been unmeasurable in the Dealership's growth. Chad Decker is our Parts Manager and he has the most experience and parts knowledge in all of Salt Lake. I used to work for Chad when I began as a delivery driver in the 80's and learned from him everything to know about parts, customers, and world-class service. Chad has been with us since 2010. John Weber joined our team as the Service Manager in 2014. Coming over from Intermountain Trailers, John has brought valuable knowledge and a great reputation to the Utah Service team. Currently Great Dane of Utah's service team operates two shifts and four mobile trucks.
As a company, it sounds like Great Dane of Utah is very charitable. What other ways

have

you given back to your local community?
Alli: We sponsor a Title 1 School (low income, high need) around the corner called Riley Elementary School. We find ways to send them donations each year that help with their current needs. The last school year proved especially challenging with COVID. This particular Elementary school spent the entire year 100% online. Other schools in smaller surrounding districts had the opportunity to go back to in person throughout the year, but due to the location and COVID conditions, these elementary kids did not. The teachers explained how hard it was for these kids to be home on screens all day, every day, and how much they were missing the other parts of school that weren't happening (lunch, recess, PE, art, friends, playmates, etc.) . Teachers were teaching online all day, and would say to the students "now set your timer and go play for a 15 minute recess and then come back to me on the screen". The kids would look back with confusion because they didn't have the items to play outside with.
We decided to provide every child with an "active play/non-screen time" toy for Christmas. As you can see below, we went with Legos, Balls, Art Kits, Magnetic building blocks, etc. All toys that promote and foster productive and fun play. All of our employees donated items, and then the company filled the gaps to complete the rest of the need. We made sure every child had a fun Christmas gift when they came to pick up their December online learning kit.
Pictured Left: Toy donations for the children of Riley Elementary School. As a supplement to this project, Great Dane of Utah bought every teacher a nice catered lunch, and a gift card to the local teaching supply store so they could buy the supplies they needed to be an effective online teacher. With so many new challenges this past year, helping the local elementary school adapt was a rewarding experience for all our employees. Pictured Right: Great Dane of Utah employees volunteering at Riley Elementary School.
There are many long-term employees at Great Dane of Utah, what do you enjoy most about working for the dealership?
Dianne: I enjoy working for Great Dane of Utah because we have the best product and an amazing work culture. People and relationships definitely come first here, and employees are happy because they are well taken care of. Our customers like doing business with us because our customer service is second to none. Bill always says the customer might not end up purchasing a trailer from Great Dane of Utah, but I want them to leave saying "Great Dane of Utah is the nicest place in town" – I think that says it all.
John: Great Dane of Utah is a wonderful place to be because you are truly treated like you are part of the family, not just a number.
Chad: Bill is the best boss on the planet, very generous and genuinely cares for his employees. All the great people we have accumulated on our team over the years are second to none. It's fun to come to work!
What is the nicest thing a customer has said to you about your products or services?
Bill: "We know we will always be treated fair" is a great phrase to hear! I also love hearing, "We buy trailers from you Bill because of your people. We can buy anywhere but your people will always work hard to solve our problems."
What do you enjoy most about doing business in Utah?



Bill: The People. The trucking executives all the way down to the drivers and employees out here are all salt-of-the-earth, honorable people. They are all good people trying to make the best decisions to provide for a successful outcome. Being involved daily with them you see that and come to appreciate and value that type of thinking.
Jared: Utah is a unique location for the trucking industry with the i-15 and i-80 intersections, making it a successful location for a dealership. It has beautiful landscapes which range from dessert sands to mountain peaks which are the backdrop to all eastern views here in the Salt Lake valley. We enjoy the blend of "city life" benefits and rural small-towns not too far away.
We also recently won the "Best of State" award for the category of "Transportation Equipment". It was an honor for Great Dane of Utah to be selected as the winner in this category. We really enjoy serving our customers in this region and appreciate their recognition of our hard work.
Top Picture: Bill's team surprised him on his birthday with the news that Great Dane of Utah won the "Best of State" award. Bottom Picture: Great Dane of Utah's current building. This facility was built in May 2015 and allowed the company to expand its services with its first ever service shop.
Interested in learning more about Great Dane of Utah?